SANI SOLAR is the innovative solution for sustainable improvement in public health at rural areas
Millions people still practice open defecation (UNICEF 2015)
In its latest report on progress on sanitation and drinking water (2015), WHO and UNICEF stated that worldwide 2,4 billion people still lack access to improved sanitation facilities.
of urine and faeces are yearly generated by every human being
Using a common WC, thereby 11.000 litre of drinking water are converted into sewage. In many of the semi-arid regions of the world this not only is a waste of precious recourses, but often also leads to environmental pollution and health hazards.
of excreta mass reduction due to the drying process of SANI SOLAR
Due to our innovative drying method, human excreta mass is reduced to approximately 17 kg of dried faeces and 9 kg stabilized fertilizer in form of dried urine. This is unique worldwide and represents a real sustainable sanitation solution for rural areas.
Climate aspects of SANI SOLAR
Sani Solar is perfectly suitable for all warm arid and semi-arid regions of the world (green and yellow marked regions). For projects in more humid regions- for instance Malaysia or Singapore- please contact our experts directly at: info@3ptechnik.de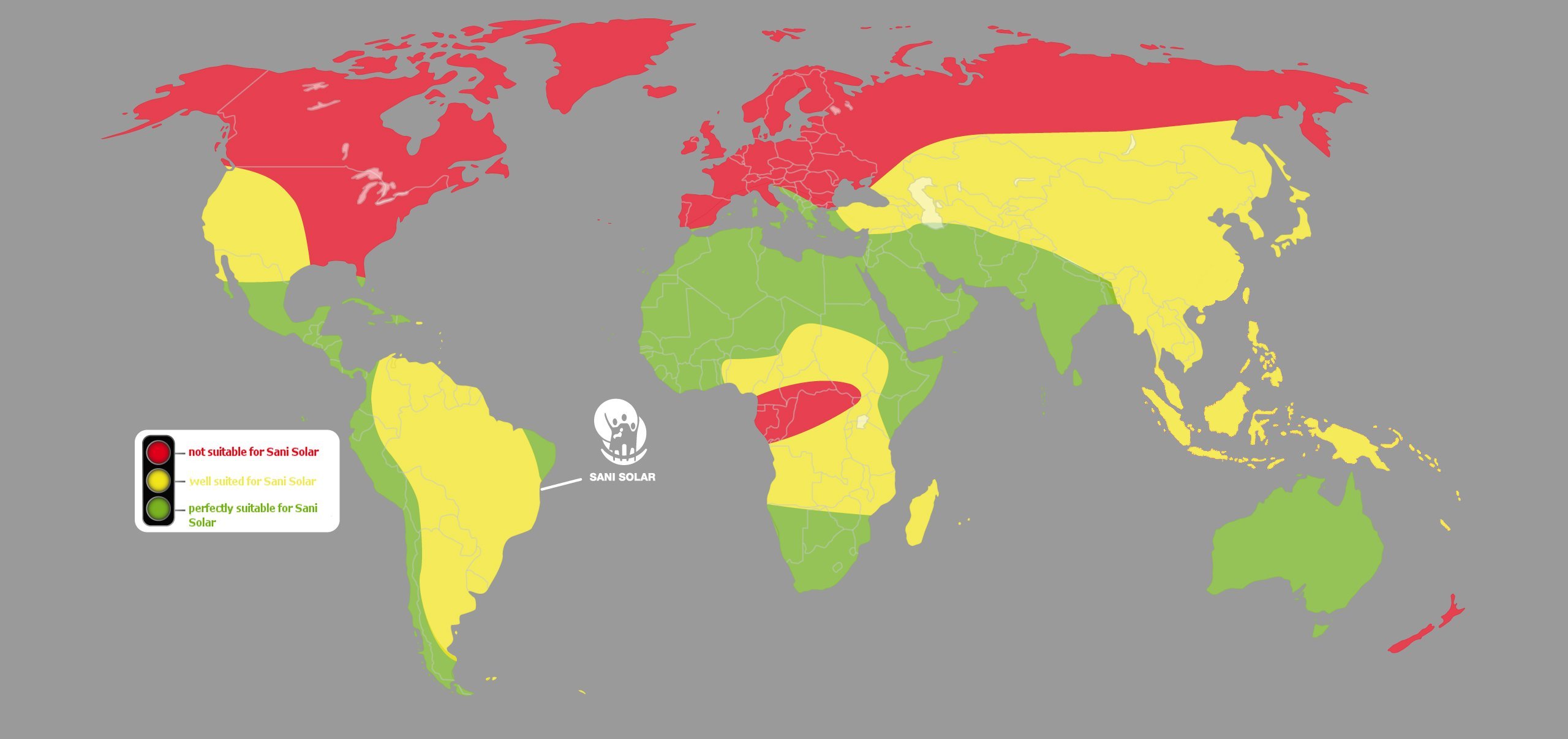 Based on its expertise in the field of environmental technologies and rotomolding production, 3P developed and produce SANI SOLAR, a complete, autonomous sanitation system.
One, two, three | Keep it simple
The SANI SOLAR sanitation system can easily being transported, installed and used. There is no need for special knowledge. It's a plug & play solution. Only two persons are required to complete installation within three hours. There is no need for connections to sewer or fresh water.
Energy self-sufficient | Waterless
The technology does not require power connection, solar panels or batteries. It is energy self-sufficient and makes use of the Sun and natural climatic conditions for the drying process. No precious water is needed for operation.
Robust | Durable
Specifically designed and produced for semi-arid and arid climate regions, SANI SOLAR can be used over decades under those conditions.  The material is UV-stabilized, dirt-repellent and ideal for sanitation facilities.
No maintenance | No excipients
The working principle of SANI SOLAR has the advantage that there is no need for water, chemical, or other excipients. There are no wear parts and the system needs no maintenance.